CBNation TV
I am CEO
Jewelry Designer Creates Versatile Designs With Indo-Western Elements
Podcast Interview with Jinal Sampat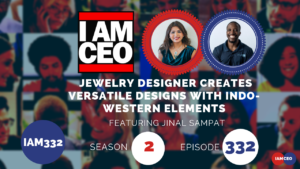 Jinal Sampat is jewelry designer at Sampat Jewellers. Her focus is on innovation and creation of jewelry pieces that are meaningful and hold long term value. She creates versatile designs with Indo-Western elements. Jinal holds her graduate degree from Rhode Island School of Design (RISD).
CEO Hack: Writing 20% of the things that will help us achieve 80% success every Sunday
CEO Nugget: Focus on the resources you have and build your business
CEO Defined: Working on the business, not in the business
Website:https://sampatjewelers.com/
Instagram: https://www.instagram.com/sampatjewellers/
Facebook: https://www.facebook.com/SampatJewellers/
Check out one of our favorite CEO Hack's Audible. Get your free audiobook and check out more of our favorite CEO Hacks HERE.